Life Insurance
Life insurance is a way to financially take care of those we care about when we're no longer here to do it ourselves.
Thinking of our loved ones trying to adjust to life after we're gone can be a tough mental picture, but it is easier to see when we're confident they are going to be okay financially.
Life insurance can provide the money that creates that security, so it's important to know how it works and how much you might need.
Learning Guide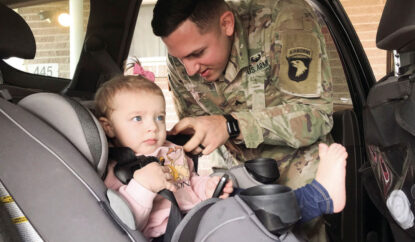 Frequently Asked Questions
If anyone is financially dependent on you, or would be financially worse off if you died, you may need life insurance. Life insurance can also be a great way to provide money for future goals if you pass away before you are able to save up the funds.
The amount of insurance you need depends on three big things:
What you'd like to be financially possible after your death
How much that would cost
How much more you'd need above what you already have in available assets or benefits
Visit the "How Much Life Insurance Do I Need?" section of this guide for a deeper explanation and an explanation of how the simple acronym LIFE can help you determine your needs.
The two most common sources of life insurance are employer-provided benefits, like Servicemembers' Group Life Insurance (SGLI) in the military, and personally owned policies purchased from commercial life insurance companies.
Employer-provided coverage is often easier to get and costs less than a policy you purchase on your own. However, it usually ends when your employment ends and this could leave you without insurance when you still need it.
Term life insurance and permanent life insurance can each have their place in a sound financial plan.
Term insurance usually has lower, fixed premiums for a set period, but can become unaffordable as you get older. Because of this, term life insurance can be a good approach for those with tight budgets or with shorter-term needs to cover.
Permanent insurance usually has higher premiums in the short-term than comparable term insurance, but since a portion of each premium goes into a cash value pool that can help offset higher future costs, these policies can be structured to allow them to last your whole life.
A combination of term and permanent coverage is often a sound strategy.
While every situation is different – yes! It's often a wise move to take advantage of Servicemembers' Group Life Insurance for these three reasons:
It's easy to get – it's a benefit provided as part of military Service
It's relatively inexpensive – around $30 per month for $500,000 of coverage
It's easy to pay for – premiums are deducted directly from the Service member's pay
The person (or people) who you name as beneficiary(ies) on your policy will receive the death benefits. If no beneficiaries are named, your estate will receive the funds and it will be distributed according to your will or, if you don't have a will, the applicable laws of your state of residence.
Because of how life insurance payouts work, it is important to make sure you keep your beneficiary designations up to date.
Qualifying Service members, Veterans, and their families are eligible for comprehensive health care benefits through TRICARE, which is the Department of Defense's health care program.  TRICARE offers a range of benefits including preventive care, primary care, specialty care, mental health care, prescription drug coverage, and emergency care. To learn more about TRICARE eligibility, coverage, and cost visit their website.