PCS orders – check. Location and entitlements – double check. A little extra money set aside for the move – can I get a raincheck? The government provides relocation allowances to help cover the cost of a PCS, but they may not be enough to cover all of your expenses. Take a few minutes to learn from experiences of other Service members and get tips from our experts to make your next move easier on your wallet.
Before
Before You PCS
Try to estimate changes to your household income and expenses at your new duty station. Anticipate differences in your allowances and cost of living. Also consider changes to your spouse's employment status (if applicable) and account for any possible breaks in employment. The DoD recently enhanced spouse employment benefits so be sure to review before you move. Check out MilSpouse Money Mission for more spouse resources.
Brush up on your understanding of the Government Travel Charge Card (GTCC). Many services mandate the use of the GTCC for PCS expenses, but be aware that the application of this rule can vary between branches.
Plan to have money available to cover ALL of your moving expenses while you wait to be reimbursed.
Update your mailing address right before you leave so you don't miss any communications or bills.
Set a little money aside for goodbye dinners with friends or other farewell celebrations.
Account for associated moving expenses such as passport fees (OCONUS), quarantine expenses, and pet transportation.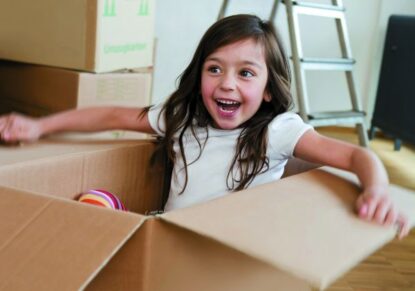 Housing Options for Your Next PCS
Once you receive orders, it's time for the next order of business – finding your home.
Key Takeaway: If you have kids, then you know changing schools, routines and making new friends can be hard. As best you can, try lining up school and child care before you arrive at your next duty station. Having a plan will decrease stress on you, your kids and your wallet!
Reach out to your new installation's Child Development Center or search MilitaryChildCare.com for child care options; contact the school liaison for help finding appropriate schools and community-based youth programs. The DoD has recently enhanced child care benefits to help military families.
Here's how to plan for the costs of moving out of your home, finding a new place to live and moving there.
Breaking a lease?
If you need to break a lease, you might be able to do so without forfeiting your security deposit under the Servicemembers Civil Relief Act (SCRA). If you need additional help, go to your base legal office.
Carry out a credit check
Whether you'll buy or rent at your new location, your landlord or lender will want to review your credit report. Resolve any errors now, so you're in the clear when you shop your options. A personal financial manager on your installation can help you.
Get pre-approved
If you plan to buy a new house or car, get pre-approved for a loan before you start shopping.
Consider insurance for your home
Whether you plan to buy or rent at your new duty station, consider the insurance you'll need and the amount it will cost.
House hunting
Service members can take permissive temporary duty (TDY) for house hunting, but costs like travel and lodging are not covered. The DoD recently enhanced PCS benefits to help offset costs during a move.
Plan to rent?
If you'll be renting, plan to pay a security deposit. If you're counting on a refund from a previous security deposit, know it could take 30 to 60 days to receive it.
Utility transfer
Some companies waive the fees associated with starting or stopping service for military families. Make sure to ask.
As you plan your move, don't forget to account for your ride!
Insurance
Coverage minimums and associated costs vary by location. Notify your providers that you'll be moving so they can update your policy. Note the new cost and adjust your budget accordingly.
Re-registering
You might be required to register your vehicle in your new state of residence. There could also be new inspection requirements. Look into requirements and budget accordingly.
Maintenance
Get your ride in good shape before its big move. If you need new tires, breaks, or an oil change, try to take care of that now.
Vehicle stays behind
If you're not planning to bring your vehicle, consider the cost of storage or the money it will take to get it ready to sell.
Leases
The Servicemembers Civil Relief Act may protect you from the financial penalties associated with breaking your lease. If you're breaking a lease, check with your base legal office for help.
If you're headed overseas, there are additional considerations to account for.
Number of vehicles
The DoD only pays to ship one vehicle overseas. Reach out to your Relocation Assistance Program to understand your allowances and talk through options.
Storage
The government pays storage fees up front if you're storing your car. There could be exceptions. Learn more at PCSMyPOV.com.
Parts
If you need a part overseas, it could be harder to find. You might also have to pay higher shipping costs. Consider purchasing extra maintenance-related parts while you're still stateside (headlight bulbs, brake pads, air filters, etc.).
Leases
Some leases don't allow you to take the vehicle overseas. Check with your leasing or financing company to explore your options. If you need to break your lease, the Servicemembers Civil Relief Act may protect you from the associated financial penalties. Check with your base legal office for help.
There are a few more moving-related expenses you can anticipate and plan for if you're going overseas:
Pet travel, immunization, transportation costs, and quarantine fees
Passport renewal and visa applications (should be reimbursed with command approval)
New cell phone plan
Note that passport renewal for a child under 16 requires the presence of both parents.
To successfully move your stuff without breaking your budget, keep these tips in mind.
Be realistic
It might take more time (or money) than you expect to clean up your current place and disassemble major appliances or backyard playscapes, so be sure to plan ahead.
De-clutter
You'll have to pay shipping expenses for items that exceed approved weight limits, so consider lightening the load. If you plan to leave some items behind, slimming down your inventory will also help reduce the cost of long-term storage. Sell items online or at a yard sale for a little extra cash.
Check insurance
The DoD offers a base level of insurance on shipping household goods, but depending on the value of the property you'll move, you might want to purchase additional coverage. Check with your homeowners or renters insurance provider to understand your coverage while your goods are in transit.
Key Takeaway: As you plan travel, you might be able to use temporary lodging on military installations to help reduce expenses. If that isn't viable, ask for military discounts when booking civilian lodging.
During
During Your Move
Keep your receipts
Remember to keep all of your receipts so you can quickly file claims for reimbursement upon arrival at your new duty station.
Keep your valuables close
Bring these things with you when you travel. Don't ship them with household goods.
Medications for your family and pets
Important documents
Moving documentation
Valuables
Keys
Recreation
It's ok to plan for some fun for the family during your move. While those expenses wouldn't be reimbursed, you can plan some sightseeing or visiting family and friends along the way.
After
After You Move
Use these tips to ease the financial burden of settling in.
While you wait for your household goods shipment, borrow from your installation's loan closet instead of buying items you need.
If you're in temporary quarters after you arrive, try to find a place with a kitchen so you can avoid the expense of eating out.
If you don't have a washer and dryer in your temporary quarters, budget for the cost of doing laundry at a laundromat (around $3 to $6 per load).
Your installation's thrift store might have affordable furnishings to make your new house feel like home.
Consider setting up a new bank account if you need in-person financial services so that you can avoid non-network ATM fees.
Once you settle in, be sure to carve out time to revisit your budget and financial goals.